Q&A SESSION
Steinway Enrichment Session
"MUSIC READING AND PIANO MASTER CLASS"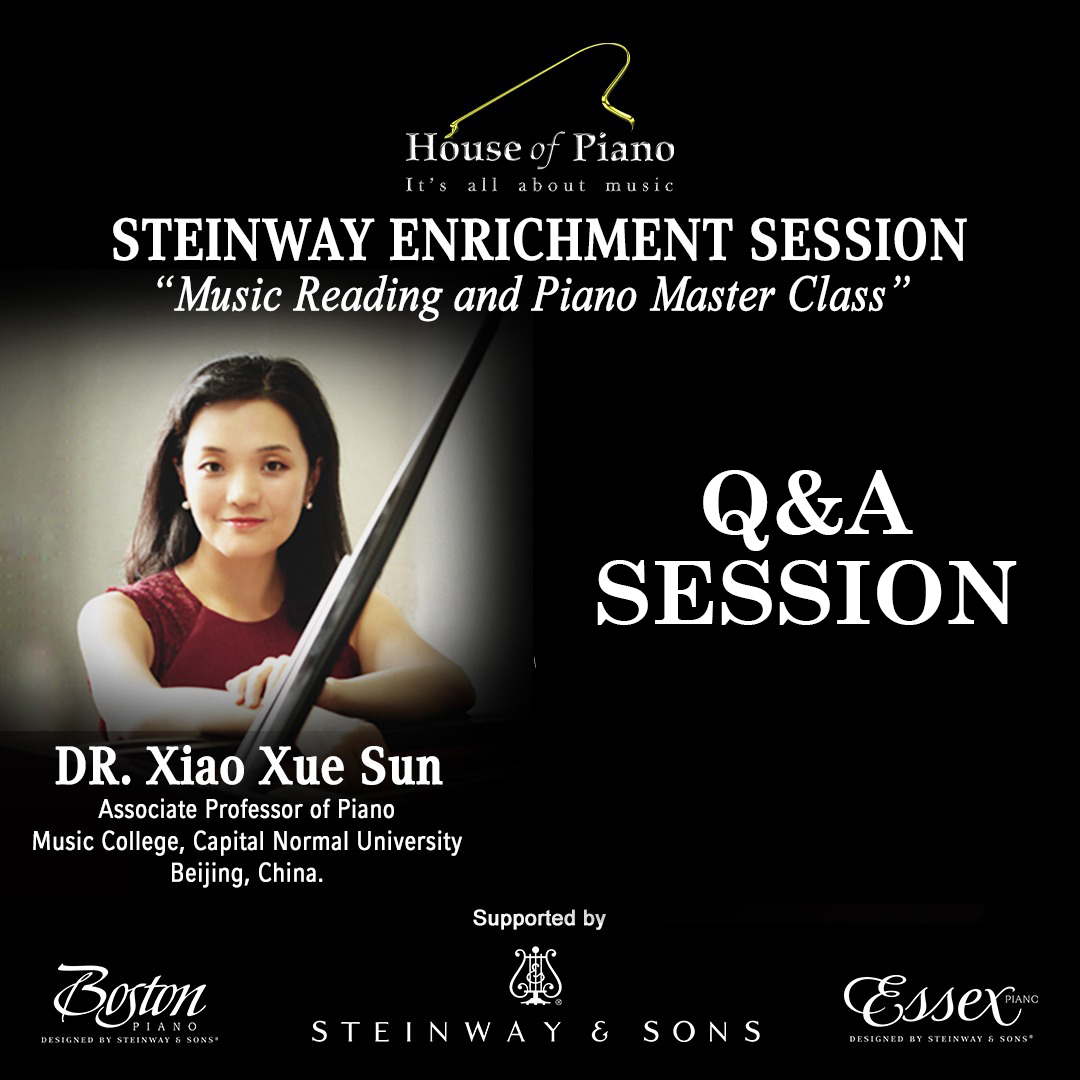 Here are the answers to the questions from participants that have not been answered by Dr. Xiao Xue Sun during the event Steinway Enrichment Session "Music Reading and Piano Master Class".
Question:
1. From Seraphine
(已经回复)Good evening, I would like to ask, Is there any specific technique for wrist movement to project a relax soft dynamics? Thank you
2. From Christopher Jonathan(已经回复)
Good evening, I have a question.
When reading a new piece, is it better to finish reading all the notes before working on the technique needed to play the piece, or is it better to learn the notes and master the technique needed per sections?
3. From Daffa Mohamad Fathoni (已经回复)
Thank you for all the lectures and advices!
I would like to ask about some techniques that I have been struggled with. When we play a piece, specifically the faster ones. Sometimes i tend to get tense and stiff not only my hands, but also my foot for pushing the pedals for the right beat. Are there any advices on how to lessen the stiffness?
4. From Ellena Michelle
Good evening Dr. Sun,
I would like to know is there any way to help us play a longer phrasing in a slow piece?
The answer from Dr. Sun:
Yes, playing a longer phrasing in a slow piece is always hard. I would suggest you:
1. Play a little faster just for practice. This way will help you to get the idea of the direction of the phrase.
2. This one is very important! To find A TURNING POINT of the phrase. Play the phrase from beginning to the turning point and let the music go to the end of the phrase from the turning point. A natural turning point will help you play a clear shape of phrase. Keep practising and good luck!.
Question:
5. From Sofia from Surabaya
As far as my observation , the problem for Indonesian student Not only in Sight Reading but also in Counting problem. As we know that Solfege lesson we can learn a lot of things as AURAL SKILL, PITCH AND SIGHT READING.
Two simples questions for Dr.Sun.
- According you, How important is Solfege lesson in music?
- How is music education in China for beginners, is it given Solfege lesson.?
The answer from Dr. Sun:
Of course, solfege is very important in music! At some point, to teach students how to hear is more important than to teach them how to play. For example, if a student is not playing a scale with both hands together, teaching she/he to listen together will help them a lot than teaching them to play together.
We have differentschools of music education in China. Usually,the solfege lesson is separate from the piano lesson. Students playing piano just for fun usually are not taking the solfege lessons. But we do have professional music elementary/middle/high schools, they do have solfege lessons, and they have to take solfege lessons for a long time.
Question:
6. From Karolina and Chris:
How do you adjust your touch/sounds to different pianos when you only have less than 10 minutes to try out the piano before a performance?
The answer from Dr. Sun:
That is always hard! I would pick the hardest part of the music which I am going to play on the new piano first, and then the softest part. I also like to play passages slowly to feel how sensitive touch of the piano can make, and feel the space that how far the sound can reach as well. For the hard piano, I will tell myself to use the finger/arm weight as natural as possible, and always tell myself not to force the keyboard.
Question:
7. From Jenni S Ng
I would like to ask how to play repeated same notes in la campanella & play fast in end passage.
The answer from Dr. Sun:
repeated same notes: first, you have to have a very relax wrist! The frame of the hands should be stable but not tight! Your finger tips should have a fast touch and fast leave of the keyboard. When playing the octave, the relaxed thumb is the key, check with your thumb, it is very easy to get tight when the music gets exciting. Second, when playing the repeated same notes, finding the direction of the phrase! Even they are same notes, they still need to be moved forward! Don't let the music stop, move on!.
Play fast in the end passage: yes, it is very hard! Technically, try to avoid "up and down hands/arms movements" when playing big octave jumps, use the "horizontal hands/arms movements" as much as possible. This helps you save the energy and time to play between notes. Musically, having a clear plan that how many phrases you will be playing is very important! If you know exactly the phrase structure, you will be very confident to arrange the different dynamic levels from begining to the end. One more detail, the 16th notes always go to the eighth notes in this case.
Thanks to the questions!
&
Enjoy your music!!